Birding in Bwindi Forest with Gorillas
Insert your content here
Birding in Bwindi Forest, combined with gorilla trekking, is an extraordinary and unforgettable adventure. It's an immersion into Africa's pristine and biodiverse landscapes that will leave lasting memories. Whether you're a bird enthusiast, wildlife lover, or nature aficionado, Bwindi belongs on your bucket list. Come for the birds, stay for the gorillas, and depart with memories that will endure a lifetime.
Don't Miss Your Chance Embark on this extraordinary journey by exploring Uganda's exceptional birding destinations and experiencing the wonder of trekking with mountain gorillas in the enchanting Bwindi Impenetrable Forest. Book your adventure today and witness nature's wonders unfold before your eyes.
Birding in Bwindi Forest: An Unforgettable Experience with Uganda's Gorillas
Discover the allure of birding in Uganda's breathtaking Bwindi Impenetrable Forest, a UNESCO World Heritage Site that offers not only exceptional birding opportunities but also the chance to encounter iconic mountain gorillas. In this article, we delve into the exciting world of birding in Bwindi Forest, showcasing its unique avian diversity and the unforgettable experience of combining birding with gorilla trekking.
Bwindi Forest: A Jewel of Uganda's Birding Scene
Bwindi Impenetrable Forest National Park is a true gem for bird enthusiasts. This ancient rainforest boasts over 350 bird species, including 23 Albertine Rift endemics, making it a must-visit for birdwatchers.
Albertine Rift Endemics: Bwindi's location in the Albertine Rift makes it an ideal spot to observe rare species like the Rwenzori Turaco, African Green Broadbill, and Grauer's Rush Warbler.
Varied Habitats: The park's diverse ecosystems, ranging from montane forest to bamboo, provide a wide range of niches for birdlife. Novices and seasoned birders alike can enjoy the rich avian diversity.
Guided Birding Tours: Bird Uganda Safaris offers expert-led birding tours, ensuring you explore the best birding spots and gain insights into the unique species you encounter.
Uganda Birding with Gorillas: A Wildlife Enthusiast's Dream
Enhance your Bwindi adventure by combining birding with gorilla trekking, as the forest is not only a birding paradise but also a refuge for endangered mountain gorillas.
Gorilla Trekking: lush rainforest, surrounded by the melodious songs of birds as you embark on a gorilla trek. Bwindi is home to nearly half of the world's mountain gorilla population, offering a chance to witness these majestic creatures up close.
Photographic Opportunities: Capture the vibrant plumage of birds, the soulful eyes of gorillas, and the enchanting landscapes of Bwindi, providing exceptional wildlife photography opportunities.
Conservation and Sustainability: Your participation in gorilla trekking and birding contributes to the conservation and protection of these species and their habitat, with permit fees directly supporting wildlife conservation efforts.
Top Birding Spots in Bwindi Forest
Explore Bwindi's remarkable birding destinations:
Buhoma Sector: This sector is known for sightings of species like the African Blue and White-tailed Blue Flycatchers. Unique human-avian interactions can be found in adjacent communities and tea plantations.
Ruhija Sector: A must-visit for avid birders, this area offers species like Grauer's Swamp Warbler, Grauer's Broadbill, and the stunning Regal Sunbird.
Nkuringo Sector: Nkuringo boasts the Purple-breasted Sunbird, Handsome Francolin, and numerous other bird species. It's also renowned for panoramic views of the Virunga Volcanoes.
Uganda Birding Safaris
Uganda's appeal for birders extends beyond Bwindi Forest, with over 1,000 bird species to be found across its diverse landscapes, from the shores of Lake Victoria to the savannas of Murchison Falls National Park.
Uganda Gorilla Trekking
A Once-in-a-Lifetime Adventure – Uganda's commitment to gorilla conservation and sustainable tourism makes it one of the world's best places to experience the thrill of encountering mountain gorillas in the wild.
Most Sought after birds of Bwindi Forest
Explore the enchanting avian diversity of Bwindi Forest with our guide to the most sought-after birds. From the elusive African Green Broadbill to the vibrant Rwenzori Turaco, uncover the feathered treasures of this pristine Ugandan wilderness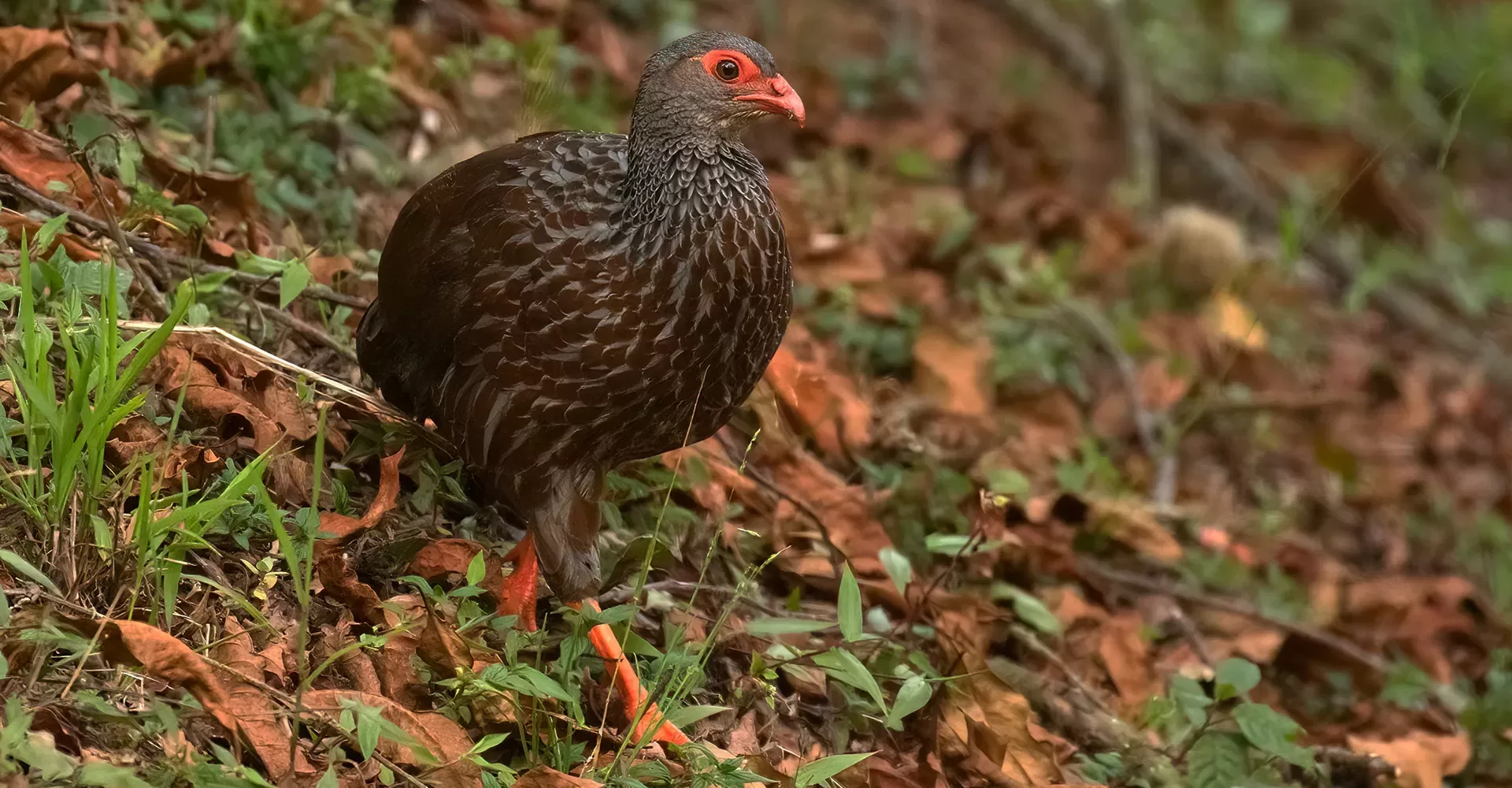 1. Handsome Francolin
2. Rwenzori Turaco
3. Rwenzori Nightjar
4. Dwarf Honeyguide
5. African Green Broadbill
6. Stripe-breasted Tit
7. Red-throated Alethe
8. Archer's Ground Robin
9. Kivu Ground Thrush
10. Montane Masked Apalis
11. Ruwenzori Collared Apalis
12. Grauer's Rush Warbler
13. Grauer's Warbler
14. Short-tailed/Neumann's Warbler
15. Red-faced Woodland Warbler
16. Yellow-eyed Black Flycatcher
17. Rwenzori Batis
18. Blue-headed Sunbird
19. Purple -breasted Sunbird
20. Regal Sunbird
21. Strange Weaver
22. Dusky Crimson-wing
23. Shelley's Crimson-wing
24. Oberlander's/Forest Ground Thrush